Permaculture Landscape Design
Custom Landscape Design
From concept designs through to detailed planting plans and estimations, we've got a solution for you: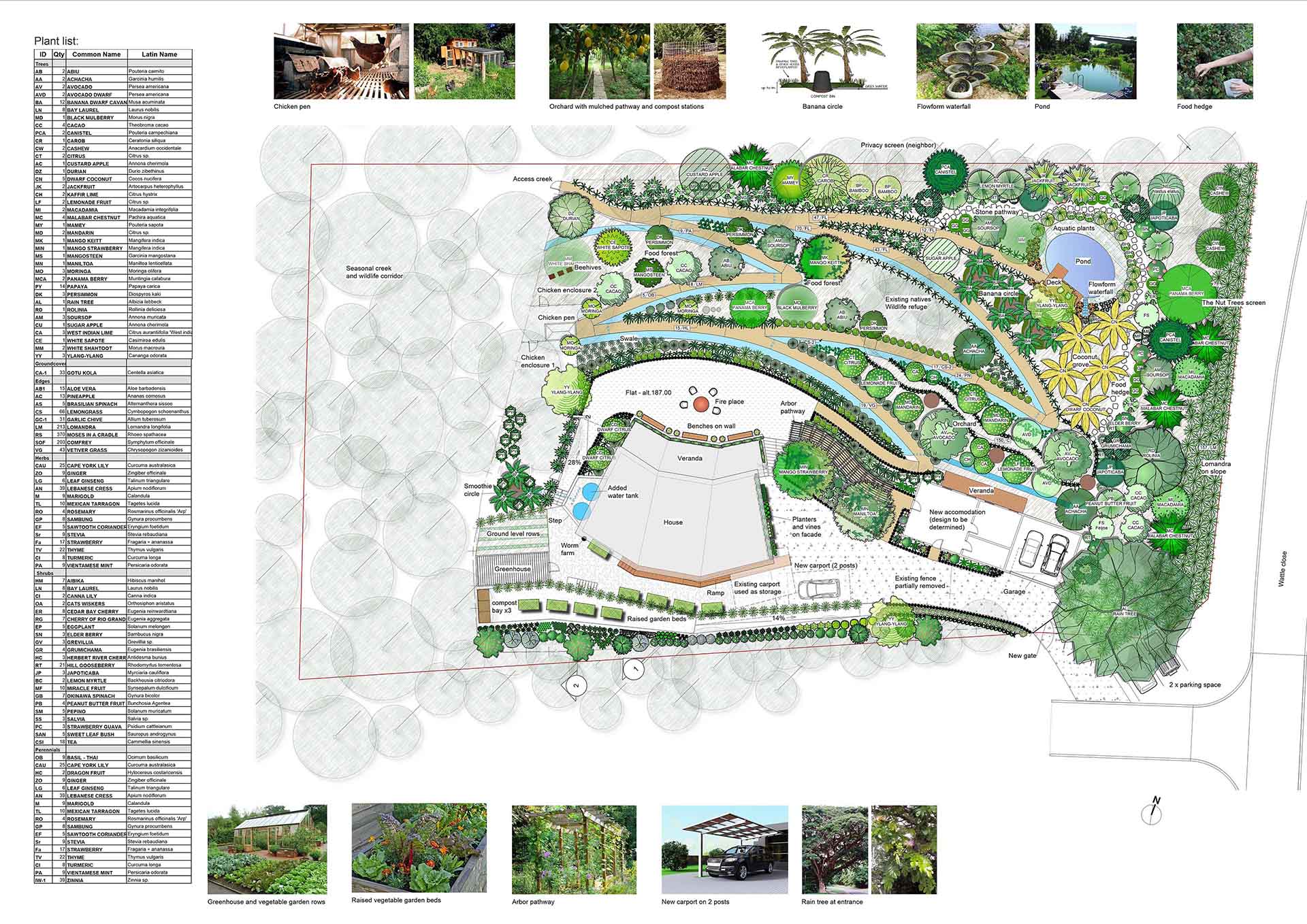 Residential
1000m2 – 1 acre
From $2,100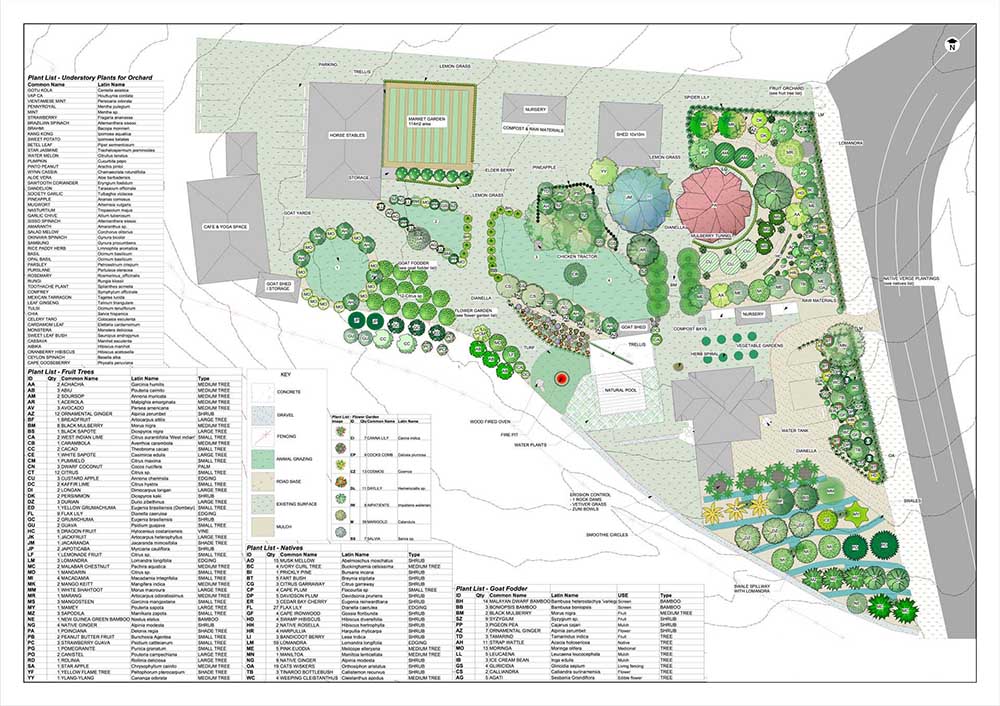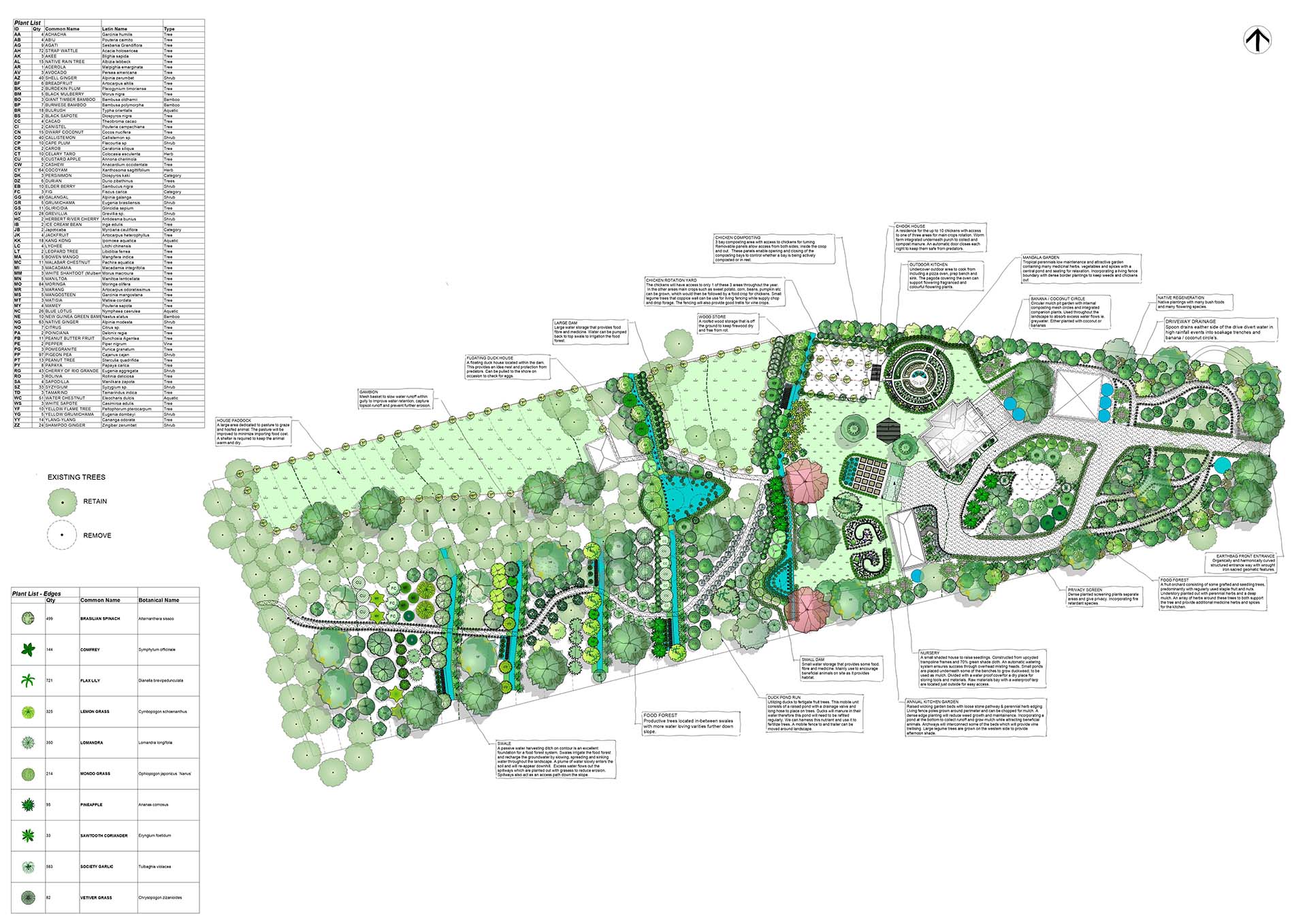 The Landscape Design could include:

An illustrated A2 or A1 Plan
– A accurate scale working plan, printed & laminated full colour

2d topographic plan
– Birds eye view of your plan

Design and layout of landscape features
– Garden beds, orchards, animals, plant nursery, paths, fences, composting, house sites ect – All the features you need to meet your goals

Plant lists
– Species and varieties suitable for the site

1 - 5m contour overlay
– Derived from digital surface modelling

Current property image basemap
– Drone mapping photogrammetry

Full landscape design plan
– Detailed illustration of whole system to scale with various overlays

2D cross sections
– showcasing particular areas elevation

Detailed planting plan
– main plants located on the map with plant lists & quantities

Keyline cultivation design
– Better water absorption & cultivation patterning for broad acre

Swales and Dams
– Broad acre water harvesting strategies to store water in the land, passively irrigate plants and animals while improving biodiversity

3D renderings
– The landscape visualisation in isometric views
The DIY instructional manual and material estimation typically includes:

Zoning plans
– a closer observation of key site considerations and energy flow

Climate analysis
– Temperatures & rainfall averages

Sector analysis
– How energy flows on and off the site, whether to block and maintain views, sun paths, shade and shadows and much more…

Annual & perennial crop rotation planning
– Planning for the seasons for maximum yield all year round

Composting
– How to make it work! With info for the different types of compost making and how to use compost

Illustrated design overviews
– For a closer look at each area of the landscape design, including images of zoned sections (areas of interest) and individual components

A3 fold out plans
– Full plans within the A4 manual

Trees & Perennial edible species list and specification
– Featuring photographs and basic information for growing, harvesting and maintaining the main plant species on your property

Animal system plan
– A look at the best strategy to Integrate healthy animal systems while regenerating the landscape

Water harvesting and Irrigation planning
– These may include tanks, swales and dams, while using best practice and water saving methods

DIY information pages
– Explaining individual garden elements and systems and how they work; which are customised and can be unique to your design

Work Breakdown Structure with bill of quantity
– Each area defined with a list of tasks, estimated hours to complete and list of material quantities (plants, raw materials ect) required for the project. An essential part to DIY dream landscaping.
Permaculture Landscape Design & DIY Manual
Custom permaculture design that meets your needs and enriches the potential of your landscape.
For people who have access to land, where they want to grow as much food as possible while living in a beautiful landscape and would like to manage the installation themselves.
My husband and I engaged Blake because we wanted to develop a permaculture system on our property but needed the intimate knowledge of the area and the expertise in permaculture design - we did not possess that. Blake has an immense wealth of knowledge that has saved us years of trial and error. We have an extremely detailed plan, amazing visuals and renderings that have us super excited about the potential of what we can do. Our initial intent was quite narrow in focus and Blake has enabled us to really understand what permaculture really is and what it means for us.
We found Blake to be very thoughtful and caring in their approach to us. The design for our garden went far beyond our expectation. Their knowledge of plants in relation to their surroundings and nature was insightful. The in depth detail of the garden design showed a creative and well thought out plan. We feel that Blake connects us to family orientated values, good will, sincerity and great care and attention. We felt looked after and trust in their professionalism to making sure everything is taken care of. We highly recommend their services.
What a great process of supported learning and understanding as we invested in developing our garden with Blake. What the team can put into place in a matter of weeks would have taken us 20 years to do. They seem to be able to think of everything and covered most bases. I have loved the positive considerate, respectful and diligent energy brought into play as we resolved the garden problems that concerned us. My dream was to create a permaculture asset to add value to our bush block - we could not have done this anywhere near as efficiently and effectively without him. Soooooo grateful for your wonderful work that could change the world we live in.